Here's everything you need to know about the world of television for Wednesday, June 7th, 2023.

PROGRAMMING NOTE:
There won't be a newsletter tomorrow. My son is graduating from high school, so I'll be offline doing Dad stuff. See you Friday.

THE IMPORTANT CNN STORY ISN'T THAT CHRIS LICHT WAS SENT PACKING
While it hasn't happened frequently enough to become a trope, there is an unsettling correlation between major media executives giving expansive interviews and then losing their jobs less than a week later. The latest participant in the "maybe I should have kept my mouth shut" sweepstakes is now-former CNN CEO Chris Licht, who finds himself out of a job a few days after a lengthy feature piece about him was published in Atlantic.

Most of the press coverage today has centered on Licht and blame his often clumsy attempts to shift the network in a more centrist-right direction as the primary reason why he was let go. And despite plenty of evidence to the contrary, much of the reporting seems to suggest that the shift in editorial positioning at CNN was driven by some underlying strategy developed by Licht. Instead of the more accurate truth that Licht was mostly following the dictates of Warner Bros. Discovery CEO David Zaslav and media mogul John Malone, one of the company's biggest investors.

For example, Atlantic just posted a piece entitled "Chris Licht's Fundamental Mistake," which frames his rise-and-fall this way:

Licht's catastrophic tenure is a shame, not only because CNN is one of the largest and most important reporting organizations in the country, but also because the role it used to play in the American media was valuable. Having a network that is widely viewed as reliable and basically trustworthy by a broad swath of the public is positive, and the partisan lean—sometimes open, sometimes less so—of much of the press today helps explain declining trust in the media. But Licht could no more rebuild the old CNN in today's environment than he could turn back the clock to 1993. That time has expired, and now, so has Licht's.

There is not one mention of Zaslav, even though there is plenty of reporting (including some at The Atlantic) that has suggested one of the challenges faced by Licht was that David Zaslav frequently inserted himself into the decision-making process at CNN. 

And then there is this take from the progressive political news site Talking Points Memo. "The Merciless Fall Of Chris Licht" frames the past few months as some attempt by the executive to ease the network towards full-blown Trumpism:

I have a pretty clear idea where Licht's CNN rebrand strategy came from. I'm much less where this approach to management, this posture came from. It looked to me like an effort to ingratiate himself and his network with the network's enemies, with Fox viewers and Trump, making the libs and elites at Fake News CNN cry a bit, making them scared. That's definitely the language of Trumpism.
Whether that was Licht's aim I can't say. It was simply my impression watching it unfold. I don't know. What I do know is that that's a bad, bad way to make friends. You can have sympathy with someone even when they're doing things you disagree with or even strenuously oppose. But that's clearly not the case here. As I said above, there's no chorus of supporters on the way down. If you're gonna roll that way you need to be certain you're 100% bullet proof because no one is going to catch you or even land a hand on the way down.

It's interesting to see the note Zaslav sent to CNN's employees on Wednesday morning which announced Licht's exit. It's this passive-aggressive "it's not you, it's me" version of events, which notably doesn't even hint at Licht's rebranding of CNN being a bad idea. Instead, the implication seems to be that the problem was in the execution:

I have known Chris for many years and have enormous respect for him, personally and professionally. This job was never going to be easy, especially at a time of great disruption and transformation, and Chris poured his heart and soul into it. He has a deep love for journalism and this business and that has been evident throughout his tenure. Unfortunately, things did not turn out the way we had hoped - and ultimately that's on me. I take responsibility. Needless to say, we appreciate Chris's efforts and dedication and wish him all the best.

None of that sentiment was evident even in the trade pieces on the exit, like Variety's "Chris Licht Made CNN Into The Ultimate Media Reality Show." I mean, reality show....reality show king David Zaslav...the comparison is right there waiting to be connected. Instead, we get passages like this one:

This CNN, given a year, couldn't figure that out, couldn't find a voice beyond the strident scream for attention at any cost; Licht may yet have a future in reality-TV programming. Licht wanted his CNN to become the center of the narrative, without thinking through what that story might look like, what it might tell about the priorities of its leader and how seriously he took the megaphone in its hand. And he got his wish: CNN is, today, yet again the story.

The one piece I've seen that addressed the Zaslav influence on CNN was this piece posted yesterday in the Wall Street Journal, which ended with this very smart passage:

The appointment of Leavy, who is a member of Zaslav's leadership team, has also raised eyebrows among employees because it brings a corporate officer closer to the network, people familiar with the matter said. 
The person close to Zaslav said he has spent a fair amount of time on CNN, even though it accounts for less than 10% of Warner Bros. Discovery's revenue. But the person pushed back on the idea that Zaslav's level of engagement was inappropriate, noting that unlike previous owners who ran the media conglomerate like a holding company, Zaslav is heavily involved in all operations.

My point is simple. Do you really believe CNN's shift rightward will change at all with a new executive heading up CNN? No. Because ultimately this strategy didn't originate with Licht. It came from Zaslav and his advisors and they will be providing lots of "guidance" to whomever takes the helm next at CNN. So framing this firing as some sort of referendum on a flawed strategy is missing the point. I am pretty confident that if I could inject David Zaslav with truth serum, he would tell me that he didn't have a problem with the editorial changes at CNN. He'd blame the inept and often counter-productive moves by Licht. So Zaslav isn't looking for change in approach editorially. He's just looking someone who is a more effective manager.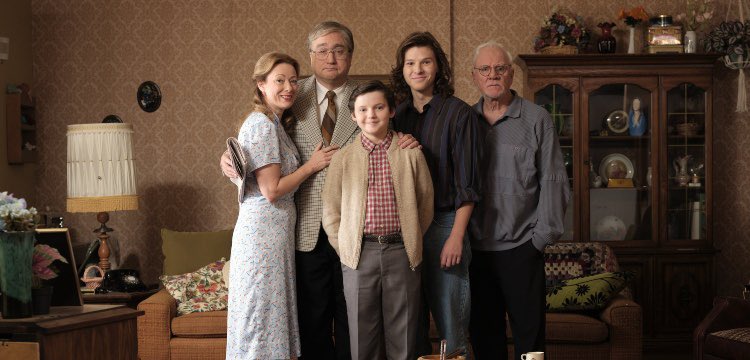 THE CW ANNOUNCES ITS SUMMER 2023 SCHEDULE
The "new" CW announced its summer schedule and it's a mix of 

Friday, July 7th:
Family Law Season Two Premiere
Moonshine Series Premiere 

Saturday, July 8th:
Greatest Geek Year Ever: 1982 Season Premiere

Tuesday, July 18th:
Down To Earth With Zac Efron Series Premiere
Fantastic Friends Series Premiere

Monday, July 24th:
Children Ruin Everything Series Premiere
Son Of A Critch Series Premiere 

Monday, July 31st:
Bump Season Two Premiere
Run The Burbs Series Premiere

Saturday, August 5th:
Great Chocolate Showdown Season Four Premiere
Recipe For Disaster Series Premiere 

TWEET OF THE DAY




ODDS AND SODS
* Jay Johnston — of Mr. Show, Arrested Development, The Sarah Silverman Show, Bob's Burger's, and Anchorman fame — has been arrested in connection with the Jan. 6 attack on the U.S. Capitol.

* Running Wild With Bear Grylls: The Challenge premieres July 9th on National Geographic. 

* The HBO Original documentary film Taylor Mac's 24-Decade History Of Popular Music debuts Tuesday, June 27th on HBO.

* Axios is reporting that Fox News informed Tucker Carlson's lawyers last night that he breached his contract with the network when he launched his own Twitter show on Tuesday

READER FEEDBACK
Yesterday's newsletter prompted a lot of comments and feedback and here are just some of what I received since it posted:

An Apple TV+ Executive Talks About Streaming
"It's true that of all the trades, aside from top-line actors, writers are the hardest to replace if you want a global TV production to feel local to American audiences. But I'll also add that here in Spain, there is a big push right now for local writers who have English-language experience to try and take advantage of the American writers strike and maybe build some relationships. I have no idea how successful those efforts will be. But it's worth watching."

"For a minute, I thought I had been the one talking to you. While I work at a different company, a lot of the perspective feels very familiar."

"One of the problems with streaming is that Hollywood has typically worked best when it was run by executives who understood how the business works. Most of these people are spreadsheet managers and this isn't a business that can be defined strictly by numbers."

"The more I read, the more I worry we are in for a strike that could last for six months or more. And how many people are still going to be in the industry when this is all over?

WHAT'S NEW FOR THURSDAY:
* Alone Season Premiere (History)
* American Pain (Max)
* Based On A True Story Series Premiere (Peacock)
* Hailey's On It! Series Premiere (Disney)
* My Fault (Culpa mía) (Prime Video)
* Never Have I Ever Season Premiere (Netflix)
* One Of The Boys (Viaplay)
* Tour de France: Unchained Series Premiere (Netflix)

Click Here to see the list of all of the upcoming premiere dates for the next few months.

SEE YOU THURSDAY!

If you have any feedback, send it along to This email address is being protected from spambots. You need JavaScript enabled to view it. and follow me on Twitter @aysrick.